Production year:      1969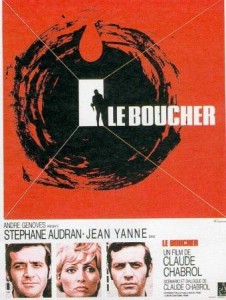 France release date:    February, 27th 1970  
Sold tickets: 220 000
Drama, Thriller
France – Italy
1h30
Directed by Claude CHABROL
With Stéphane Audran, JeanYanne
---
SYNOPSIS
In a village of the Perigord, the daily life of its residents is troubled by mysterious murders in which women have their throats cut. By who? The butcher, a former warrior who fought in Indochine and Algeria, becomes the suspect n°1 to the headmistress of the school, despite the tender feeling she could have felt for him.  
---
Screenplay, dialogs:  Claude Chabrol
Producer: André Génovès
Composers: Pierre Jansen, Dominique Zardi
Director pf photography: Jean Rabier
Camera operator: Claude Zidi
Script supervisor: Catherine Dodd
Editor: Jacques Gaillard
Set designer: Guy Littaye
Make up: Louis Bonnemaison
Costumes: Dany Rayet
Hairstyle artist: Renée Guidet
Sound: Guy Chichignoud
Unit production manager: Guy Chichignoud
Production :  Les Films La Boëtie (fr) ; Euro International (it)
Sales: Parafrance Films
---
Shooting in Dordogne:
Shot in Trémolat, Bergerac, Périgueux
Awards:
San Sebastian – Best actress ;
Bodil Awards (Denmark) – Best European movie ;
Quoted as Best film of the year 1971 by the New York Film Critics Circle members.
---